Highly breathable, decorative and protective coating for interior walls, resistant against mould.
Application range:
For all interior absorbent mineral surfaces like lime plaster, rendering, lime sand brick, cement, aerated concrete, brick, loam rendering.
Technical qualities:
Solvent free, permeable to water vapour. Matt finish, can be recoated many times.
Colour:
Natural white, matt. May be coloured with alkaline resistant LEINOS Pigment concentrate 668 at a ratio of max. 20%.
Full declaration:
Water, pit-lime, chalk, marble powder, titanium dioxide, cellulose-ether, organic binding material. Lime Paint contains max 0 g/l VOC. EU limit value for this product (cat. a): 30 g/l (2010)
Application:
The surface must be dry, clean, absorbent and free of dust, grease and salt deposits. Sintered skin on render surfaces must be removed mechanically. Sanding and highly absorbent surfaces should be primed with Mineral Primer 622. New rendering should be at least 2 - 3 weeks old. Always apply a test coat. Stir well before use and during application. Apply by roller or brush and smooth out in all directions. Highly absorbent surfaces not pretreated with Mineral Primer should be watered first. Apply 2 - 3 coats depending on surface conditions. All coats should be applied undiluted or diluted up to 20% with water depending on the absorbency of the surface. For further coatings water the surface beforehand and apply the Lime Paint undiluted or diluted with water up to 20%. A high ambient temperature will increase the water demand.
Drying time:
At 20°C and 50% relative humidity: drying time is 6 - 12 h. Further coatings after 24 hours.
Container sizes and coverage:
1 litre covers approx. 5 - 8 m2 per coat.
| Sizes | Coverage...* |
| --- | --- |
| 2,5l | 16 m2 |
| 10l | 65 m2 |
Storage:
Under cool and dry conditions, prevent from freezing. Shelf life of unopened containers 12 months. After opening use product within 2 days.
Disposal:
According to locally regulated laws. European Waste Catalogue (EWC) 08 01 19
Cleaning:
Clean equipments immediately after use with water and LEINOS Vegetable Soap No. 930.
Precautionary statements:
Wear protective gloves/protective clothing/eye protection/face protection. IF ON SKIN: Wash with plenty of water. If skin irritation occurs: Get medical advice/attention. Take off contaminated clothing and wash it before reuse. IF IN EYES: Rinse cautiously with water for several minutes. Remove contact lenses, if present and easy to do. Continue rinsing. If eye irritation persists: Get medical advice/attention. IF INHALED: Remove person to fresh air and keep comfortable for breathing. Use only outdoors or in a well-ventilated area. Avoid breathing spray mist. Keep out of reach of children. Avoid release to the environment. Dispose of contents/container according to local regulations.
Hazard statements:
Causes skin irritation. Causes serious eye damage. May cause respiratory irritation. Warning! Hazardous respirable droplets may be formed when sprayed. Do not breathe spray or mist.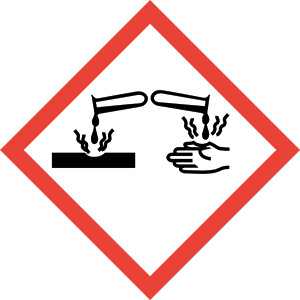 Danger