Dispersion-Silicate Paint, for interior use, solvent free, fast to washing.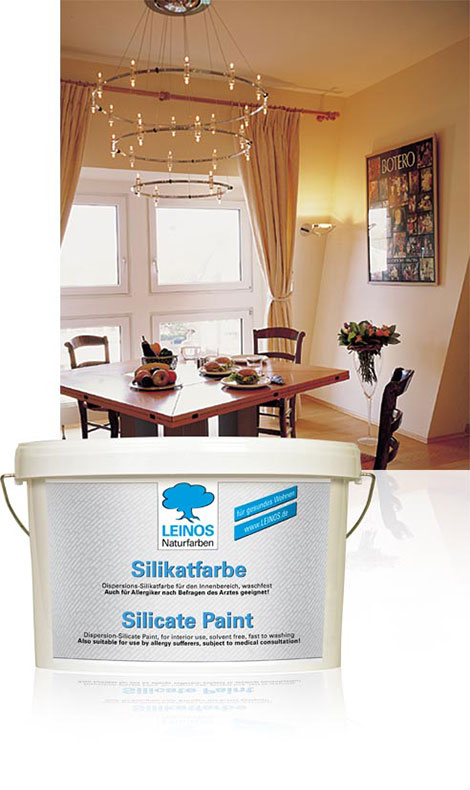 Application range:
Dispersion Silicate Paint for all solid wall and ceiling surfaces interior. Not suitable for laquer and latex paint treated surfaces.
Technical qualities:
Excellent coverage power, high fastness to washing (tested according to DIN -German Industrial Standard- 533778), hinders fungal and mould growth due to mineral alkaline nature.
Full declaration:
Water, potassium silicate, mineral pigments and fillers, organic binding material. Silicate Paint contains max 1 g/l VOC. EU limit value for this product (cat. a): 30 g/l (2010).
Preparation:
Untreated surfaces, plaster and plasterboards must be treated with Silicate Primer 621 first. Pre-treatment with Silicate Primer recommended to equalise differing levels of absorbency on surfaces spot-filled with plaster. Test coat recommended. The pre-treatment may render the surface more coarse.
Application:
Stir well before use and during application. Apply by brush or roller at  temperatures above 15°C. First coat can be diluted with max. 10% water. Apply second coat undiluted. Always apply a test coat. Ensure good light and ventilation conditions during use and drying times.
Drying time:
At 20°C and  50% relative humidity: Approx. dust dry after 3 hours. Depending on the drying process a second coat can be applied after 24 h. Provide adequate ventilation!
Container sizes and coverage:
1 l covers approx. 5 - 8 m2, depending on the absorbency of the surface.
| Sizes | Coverage...* |
| --- | --- |
| 2,5l | 16,5 m2 |
| 10l | 66 m2 |
Storage:
Under cool and dry conditions, prevent from freezing. Shelf life of unopened containers 12 months. Opened container and diluted paint not suitable for storage.
Disposal:
According to locally regulated laws. European Waste Catalogue (EWC) 08 01 03.
Cleaning:
Water and LEINOS Vegetable Soap 930. Product is adjusted ready for use.
Precautionary statements:
Safety data sheet available on request. Keep out of reach of children.
Avoid release to the environment.
Dispose of contents/container according to local regulations.
Caution the product is alkaline! Protect eyes and skin against splashes. Splashes on glass, natural stone, aluminium, wood and paint should be washed off immediately with plenty of water.
Hazard statements:
Safety data sheet available on request.
Warning! Hazardous respirable droplets may be formed when sprayed. Do not breathe spray or mist.