For interior use. Regulates humidity, solvent free, breathable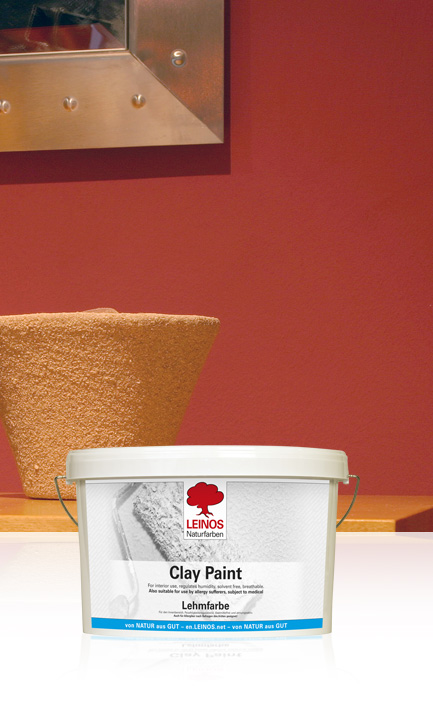 Application range:
For all interior absorbent mineral surfaces, especially clay walls. Also suitable for OSB-boards.
Technical qualities:
Solvent free, permeable to water vapour. The dull surface regulates humidity within the home. Covering power class 2. Wet abration class 3.
Full declaration:
Water, white clay, chalk, cellulose, titanium dioxide (colour white), vegetable emulsifier, polyaspartic acid, safflower-standoil. Preservation by silver chloride <100mg/l. Clay Paint contains max 1 g/l VOC. EU limit value for this product (cat. a): 30 g/l (2010).
Preparation:
The surface must be dry, clean, absorbent and free of dust and grease. Test coat recommended. Stir well before use and during application. Apply by roller or brush, smooth out  in all directions. One coat will suffice as a rule. Always apply a test coat. Ensure good light and ventilation conditions during use and drying times.  
Drying time:
At 20°C and  50% relative humidity: Drying time is 6 - 12 h.
Container sizes and coverage:
1 l covers approx. 5,5 - 6,5 m2.
| Sizes | Coverage...* |
| --- | --- |
| 2,5l | 16,5 m2 |
| 10l | 66 m2 |
Storage:
Under cool and dry conditions, prevent from freezing. Shelf life of unopened containers 12 months. After opening use product within 2 days.
Disposal:
According to locally regulated laws. European Waste Catalogue (EWC) 08 01 19.
Cleaning:
Clean equipments immediately after use with water and Leinos Vegetable Soap No. 930.
Precautionary statements:
Keep out of reach of children.
Do NOT induce vomiting.
Dispose of contents/container according to local regulations.
Hotline for allergy sufferers: ++49 (0) 04163 - 86 747 0
Hazard statements:
Contains reaction mass of 5-chloro-2-methyl-2H-isothiazol-3-one and 2-methyl-2H-isothiazol-3-one (3:1). May produce an allergic reaction.
Warning! Hazardous respirable droplets may be formed when sprayed. Do not breathe spray or mist.
Safety data sheet available on request.