New colour for all greying timber without sanding…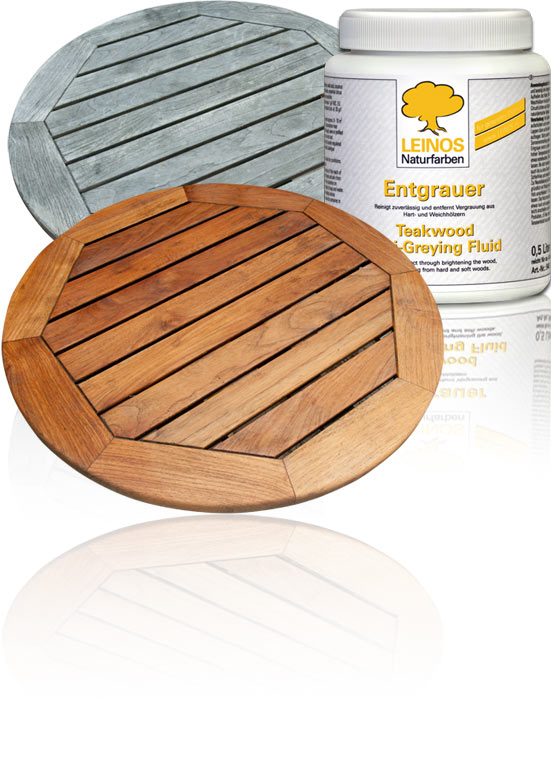 Apply Anti-Greying Fluid, let react and then brush thoroughly, for example with a scrubbing brush and plenty of water. You'll be surprised how quickly you achieve excellent results ...
Application range:
For all types of hard and soft wood. Can be applied to garden furniture as well as grey patio wood, terraces etc.
Technical qualities:
Excellent cleaning and anti- ageing effect through brightening the wood.
Full declaration:
Water, oxalic acid, coconut tenside, methyl cellulose, essential citrus oil, vegetable-based emulsifier.
Application:
Stir well before use. Apply a thin coat by cloth or brush. Do not apply in direct sun light as it may speed up drying time. If applied at high temperatures, lightly spray surface with water and leave to soak in for at least 15 minutes or up to 1 hour in case of severe greying. Clean with brush or abrasive web and water. Rinse thoroughly with water to neutralize and to remove dirt. Let dry for 1 - 2 days. After this treatment the surface may be a little rough and depleted. Slightly sand surface and protect with LEINOS products Teak- and Universal Terrace Wood Oil.
Container sizes and coverage:
1 litre covers approx. 8 - 10 m2 (100 - 125 ml/m2). Consumption may increase if applied to rough, sawn or profiled surfaces.
| Sizes | Coverage...* |
| --- | --- |
| 0,5l | 4,5 m2 |
| 2,5l | 23 m2 |
Storage:
Under cool and dry conditions. Keep tightly sealed.
Disposal:
According to locally regulated laws. European Waste Catalogue (EWC) 07 06 01
Cleaning:
Clean immediately with water after use.
Hazard statements:
Safety data sheet available on request.