1000 and one possibility: Our color pigments open up the entire color space for you. For special effects also in gold and silver.
... the multi-talent!
When it comes to colours, there are just too many choices: 22 selected different colours and 2 pearlescent pigments are just waiting to be applied. No matter if you would like to colour LEINOS-Varnish Binder, LEINOS Scumble Filler or LEINOS Wall-Wipe Varnish or if you wish to tint or shade LEINOS Natural Resin Emulsion Paint or LEINOS Plaster-Effect Paint: you will be amazed at how much potency one of these small jars contains and how little must be applied to achieve the intense colour you are seeking. And just in case we do not offer your specifi c colour: all pigment concentrates (except for pearlescent pigments) can be combined to continually create just the colour you are looking for.
At a glance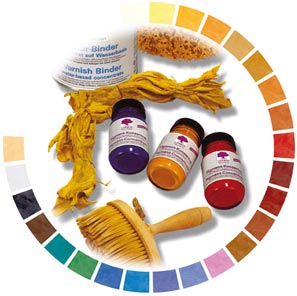 Diluted emulsion made from cellulose, shellac, tree gum, beeswax and vegetable wax
Contains high-quality earth and mineral pigments
Easy to work with, very intense colouring properties, water vapour permeable
As fulltone pigment only limitedly applicable, for example for the stippling of stencils and small surfaces
Pearlescent pigments are only suited to the dying of varnish binder.
Drying time depends on the tinted or dyed product
Usage mass: varies depending on the project and desired colour intensity
Tools may be cleaned with water