Application range:
For the cleaning of surfaces made of wood, cork, linoleum, PVC and stone. Especially suitable for heavily soiled surfaces. Recommended especially for maintaining surfaces treated with Hard Oil 240 and Wood Varnish 260. 
Technical qualities:
Liquid, high yield, strong cleaning efficiency, lipid regulating. Made of pure vegetable and renewable materials.
Full declaration:
Water, soy fatty acids, potassium soaps made of coconut oil and palm oil. The surfactants are biodegradable according to the Detergent Regulation (EC) No. 648/2004.
Application:
Apply by cloth, brush or machine. Rinse with water. For oiled and waxed surfaces or untreated linoleum dilute at most 30 – 50 ml of the concentrate with 10 L water in order to avoid an alkaline reaction. If the oiled or waxed surfaces are cleaned by a machine dilute the product 1: 1 with water. Rinse well.
Container sizes and coverage:
30 - 50 ml in 10 L water.
Storage:
Store dry, cool and sealed. Originally sealed at least 2 years stable.
Disposal:
According to locally regulated laws. European Waste Catalogue (EWC) 07 06 01.
Precautionary statements:
Wear protective gloves/protective clothing/eye protection/face protection.
IF ON SKIN: Wash with plenty of water.
If skin irritation occurs: Get medical advice/attention.
Take off contaminated clothing and wash it before reuse.
IF IN EYES: Rinse cautiously with water for several minutes. Remove contact lenses, if present and easy to do. Continue rinsing.
If eye irritation persists: Get medical advice/attention.
Keep out of reach of children.
Avoid release to the environment.
Dispose of contents/container according to local regulations.
Hazard statements:
Causes skin irritation.
Causes serious eye irritation.
GHS07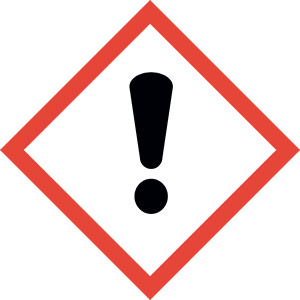 Warning