For the care of oiled, waxed and lacquered surfaces.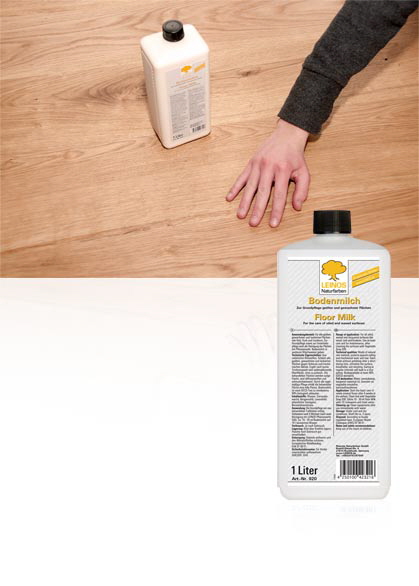 Application range:
For all oiled, waxed and lacquered surfaces like wood, cork and linoleum. Use as basic care and for maintenance, after cleaning the surfaces with Vegetable Soap.
Technical qualities:
Made of natural raw material, protects against soiling and mechanical wear and tear. Satin finish without polishing after a short drying time, refreshes the surface, breathable, soil-resisting. Caring at regular intervals will lead to a nice patina. Biodegradable at least 99 % (OECD standard)
Full declaration:
Water, carnaubawax, lavender oil, bergamot oil, vegetable emulsifier.
Application:
Start the basic care of newly treated floors after 4 weeks at the earliest. Clean first with Vegetable Soap 930. Dilute 10-30 ml Floor emulsion with 10 L lukewarm and fresh water.
Container sizes and coverage:
Depending on use.
Sizes
Coverage...*
1l
Depending on use
2,5l
10l
Storage:
Under cool and dry conditions. Close container well after use.
Disposal:
According to locally regulated laws. European Waste Catalogue (EWC)  07 06 01
Cleaning:
Clean equipments after use immediately with water.
Precautionary statements:
Keep out of reach of children. Avoid release to the environment. Dispose of contents/container according to local regulations. Hotline for allergy sufferers: ++49 (0) 04163 - 86 747  0
Hazard statements:
Contains bergamot oil. May cause allergic reactions. Safety data sheet available on request.