Weatherproof wood varnish fort the decorative coating outdoors.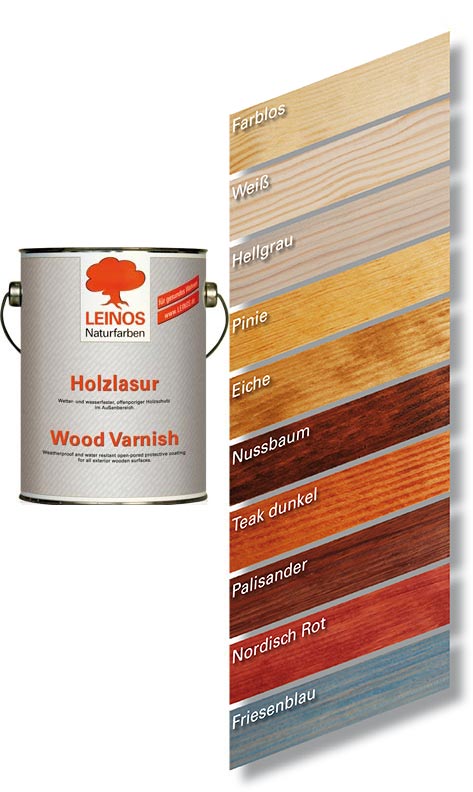 Contains film protection against fungi.
Application range:
Weather- and water-resistant protection for wood outdoors: for doors, fences, pergola, roof overhangs, clapboards, wood claddings, timber houses. Contains film protection against fungi.
Technical qualities:
Transparent and water repellent, water vapour permeable. Tested according to the criteria of the ihd and ift Rosenheim for discoloration by mortar, vapour permeability, compatibility with sealing profiles and weathering stability. Migration behaviour tested according to DIN EN 71, part 3. Saliva- and perspiration resistant according to DIN 53160. Not suitable for permanently exposed woods to water. Not suitable for floors and exterior horizontal surfaces exposed to weathering and for floors.
Colour:
002 Coulorless (without UV protection), 022 Pitch Pine, 042 Dark teak, 056 Nordic red, 062 Walnut, 072 Oak, 082 Palisander, 123 Frisian blue, 202 White, 212 Light grey, 733 Anthracite grey. See color chart Wood Varnish 260.
Full declaration:
Linseed oil-stand oil-natural resin ester, wood oil-ricinen oil-stand oil, linseed oil- wood oil-stand oil, linseed oil, isoparaffins, kaolin, micro wax, mineral pigments, zinc carbonate, alumina, jodo-propynyl-butyl-carbamate, drying agents. Wood Varnish contains max 480 g/l VOC. EU limit value for this product (cat. f): 700 g/l (2010)
Application:
Stir well before use. The surface must be dry, clean and free of dust and grease. Apply thinly and evenly at temperatures  above 15°C. Lower temperatures will delay the drying process. Always do a test coat. 
Drying time:
At 20°C and  50-55 % relative humidity: first coat drying time is 16-24 hours. Ensure good light and ventilation conditions during use and drying times.
Container sizes and coverage:
Approx. 60 - 80 ml/m2, depending upon the condition and absorbency of the surface. Apply sparingly to avoid delay of drying process.
| Sizes | Coverage...* |
| --- | --- |
| 0,75l | 11 m2 |
| 2,5l | 36 m2 |
| 10l | 144 m2 |
Storage:
Under cool and dry conditions. Close lid tightly when not in use. Shelf-life of unopened container 5 years.
Disposal:
According to locally regulated laws. European Waste Catalogue (EWC)  08 01 11.
Cleaning:
Clean equipments immediately after use with LEINOS Thinner No. 200. The product is ready for use.
Precautionary statements:
Keep out of reach of children.
IF SWALLOWED: Call a POISON CENTER/doctor if you feel unwell.
Do NOT induce vomiting.
Avoid release to the environment.
Dispose of contents/container according to local regulations.
Always be sure to store cleaning cloth, polishing pads, sponges, etc. that are still wet or even slightly moist with product in an airtight metal container or in water and dispose, as there is a danger of spontaneous combustion caused by the plant oil content in the product.
The product alone will not undergo spontaneous combustion.
A typical smell may arise due to the natural raw materials.
During sanding wear mask against respirable dust.
Hotline for allergy sufferers: ++49 (0) 04163 - 86 747 0
Hazard statements:
Repeated exposure may cause skin dryness or cracking.
Contains Iodo-2-propynyl-butylcarbamate. May produce an allergic reaction.
Active ingredient: Iodo-2-propynyl-butylcarbamate <0,6%
Safety data sheet available on request.
Warning! Hazardous respirable droplets may be formed when sprayed. Do not breathe spray or mist.